the Game Changers
Tripod Mounted Speakers
Wireless Sound Trailers
Trailers can be placed several thousand feet away from the transmitter!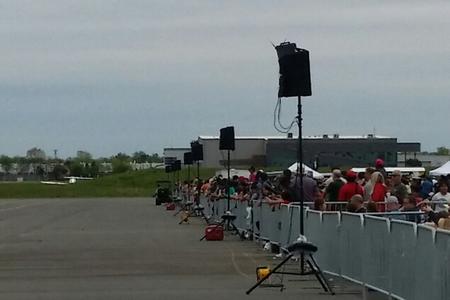 Sound System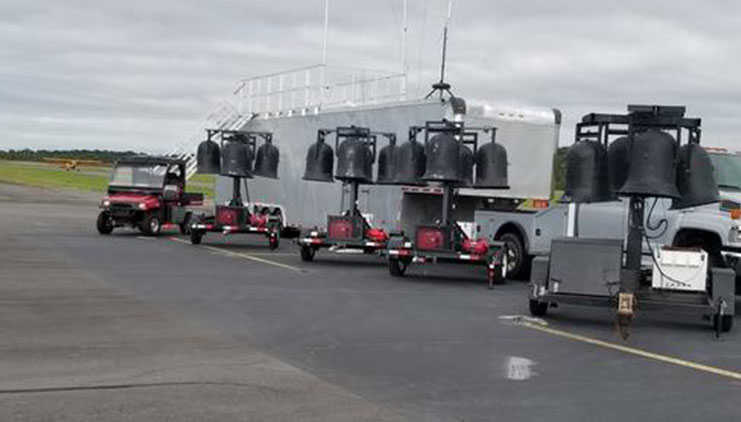 Four Wireless All Weather Sound Trailers
Each Wireless Tower will produce 4000 watts of continuous power
Each tower has four all-weather community R-2, full-range long-throw speakers. The same speakers are used at large venues and sporting events. The largest speakers for outdoor sound in the industry!
Each Community Speaker has a power rating of 1000 professional continuous watts. 2-QSC GX-7 Amps provide the signal power to the speakers
AC power is supplied from a quiet 58 DB Honda EU2000i generator
Each Sound Trailer is Totally Wireless
Trailers can be placed in the crowd for a deeper coverage area. No wires! No trip hazard!
Towers can be placed thousands of feet away from the transmitter.
QSC K-12 powered speakers mount on ultimate support stands that are telescopic to a height of 9 feet. This allows sound to penetrate deep into the crowd. Each speaker has a weatherproof cover!
20- 12″ drivers at 1000 watts each on stands
2- 15″ drivers at 300 watts each on stands
2- Cerwin Vega 18″ drivers at 600 watts each
Wired and wireless microphones
2-Shure handheld digital UHF wireless microphones
Mixer Mackie PRO FX-22v2
Bluetooth, SD, USB reader
Two deck CD player and computer
Icom A200 radio for the announcer or airboss
Announcer to performer PA interface
50 portable radios (Walkie Talkies) for use by ground support
Equipment
4-20 ft wireless speaker towers with 16,000 watts 16 speakers!
20- 12″ drivers @ 1000 watts each on stands
2- 15″ drivers @ 300 watts each on stands
2- 18′ drivers @ 600 watts each
​Announcer to performer PA interface
Two deck CD player and computer
Bluetooth, USB, SD music reader
Polaris Ranger ATV for ground support
Wireless Microphones
2- Shure handheld digital UHF wireless microphones
Wired Sennheiser HMD 26-II 600-8 pro headphones with boom-mounted microphone for the announcer
Generator Monitoring System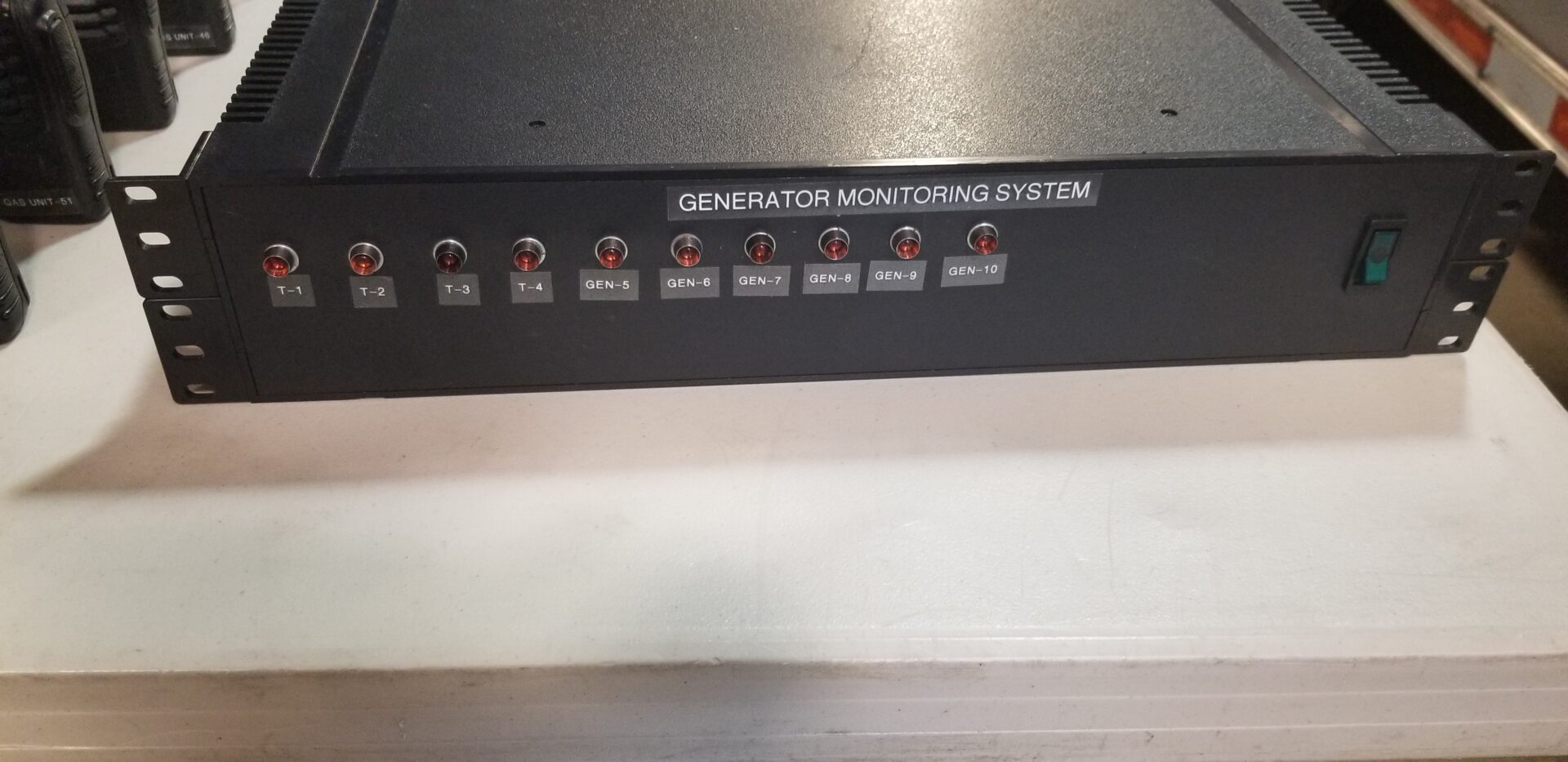 Choose the Right Sound System for Your Airshow
When looking at sound systems for your airshow, you need to consider many different factors before deciding on a PA system for your event. The sound system varies in many ways, so the type of system needed at your event needs to be chosen based on several factors. The things you need to think about are the following. Are you looking to provide only vocals for narration? If so, then PA horns will do the job. If you need more than just vocals for narration and want to incorporate music with your narration, you will need more than just horns.
You will need tweeters for high frequencies and woofers for the low frequencies combined to provide the type of sound necessary to make vocal and music sound its best. Some airshows incorporate a musical concert into their airshows. If you choose to have a concert, you may want more than just a concert-type sound system to give you adequate coverage.
Use of Full-Range Speakers
Concert sound systems use speaker arrays. They're usually tall columns using full-range speakers designed to provide sound to people that are generally seated and arranged in a centrally located area that is much smaller than an airshow crowd line. Bands typically play to an audience confined to a smaller space. Airshows have much longer crowd lines and need sound to reach thousands of feet of length.
Stereo sound isn't necessarily the best choice at Airshows because you must be at an equal distance from both the left and right speakers to hear in stereo. It's impossible to accomplish this. Not everyone can stand or sit in the same place simultaneously so that you can hear in stereo.
Full-range speaker systems are an excellent choice for sound systems to use at airshows. They consist of woofers, tweeters, and midrange speakers. They provide sound in the full sound spectrum, not just a portion of it. Full-range speakers can have individual amplifiers built into the speaker to allow for their volume control at every speaker.
If the amp fails in one speaker, only one speaker will be compromised, not several speakers like those in a daisy chain type system. Having the ability to adjust the sound on every speaker makes for the right choice for sound at airshows.
Wireless sound systems use a transmitter centrally located and provide the audio signal in the crowd where speakers are hard to reach places where wires are a trip hazard. Most systems operate on frequencies between 900 megahertz to 5.5 gigahertz.
They are combined with a wired sound system; the combination makes for a more flexible sound system and less chance for total system failure because of how the signal is delivered—giving you the ability to cover hard-to-reach areas. They're generally full-range speakers with individual volume control. If AC power is not available, quiet inverter generators can provide the capability to operate the speakers. Let's Discuss Your Next Airshow